The History of Hoyt Shepston...


In the late 1840's and early 1850'5, settlers came to California with the hopes of making their fortunes off the gold-strewn banks of the Sacramento River. These pioneers crossed the continent by stage and train, or came by steamer ship by way of the Atlantic, past the southern most tip of South America and then on through the Hawaiian Islands until they entered the port of Yerba Buena.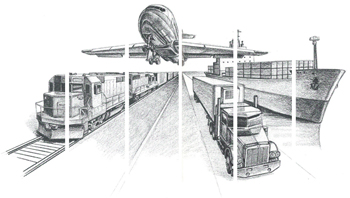 Though their journeys were often treacherous, the spirit of the "Forty-niners" was buoyed by dreams of striking it rich in this golden Mecca.

One of those to throw his hat into fortune's arena was Thomas A. Hughes; but rather than head for the hills he remained in San Francisco and became a customs appraiser. The pre-occupation with gold fever all but put a stop to production of local goods and almost everything to fill the needs of the growing community had to be imported by sea. By 1855 ship arrivals had risen to record numbers, carrying more than 550,000 tons of cargo into the San Francisco Bay Area. This was the new frontier, and Thomas A. Hughes recognized that his success would come by serving the needs of worldwide importers and exporters.
So it was in 1850 that Hughes became one of the first customshouse brokers in the new city of San Francisco. A few years later he acquired a partner, Hunter Ship and Australian Agency. This created a strong foundation that evolved into a trilogy of services, customs brokers, freight forwarder and ships agents, and in the next century to be known as Hoyt-Shepston.